VESTKORN TEXTURED PROTEIN P6511C!

THE NEXT GENERATION TEXTURED PEA PROTEIN
Vestkorn is the leading European producer of healthy, sustainable, non-GMO ingredients – is now launching an even better textured pea chunks!
Vegan and vegetarian food continues a steady growth rate; however, we see a much greater trend away from animal proteins – flexitarianism – meat eaters who makes a conscious effort to reduce their meat intake resulting in a notable impact on the market. This trend has been further accelerated by COVID-19 and the disruption to the fresh meat industry. Flexitarianism is on the rise and one of the fastest growing consumer trends today. 
Taste and texture are the indisputable attributes with which to convince flexitarians to buy plant-based food. Vestkorn textured pea protein is a sustainable and a healthy alternative to help you develop and produce plant-based products. Our textured proteins aim to be leading in functionality and are available in chunks and minced forms. These ingredients are suitable as meat analogues or extenders but can also be used in other products where a healthy, clean label profile is the goal.
Vestkorn's textured pea and faba proteins are of high quality. Dry processed native proteins form the basis of our textured proteins.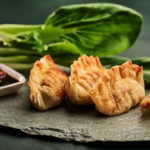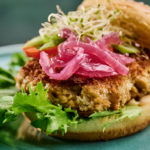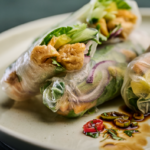 It can be used as a meat analogue to mimic chicken, pork or beef and will provide a fibrous structure and a juicy mouthfeel.
Peas as raw material have many health benefits. Not only are they nutritious high in protein, fibre, starch, vitamins, and minerals. Our textured pea proteins are low-allergenic, non-GMO and gluten-free, and can also assist your products with an eco-friendly, sustainable profile.
Vestkorn ingredients – good for you, good for the planet.
Contact our sales team to receive more information about this product.
It´s all about the juicy texture
Texture is a critical sensory attribute that can  dominate the quality of a product, as in plant-based burgers. 
Texture has been the main attribute focus in an internal benchmarking test as part of the development of the improved Vestkorn Textured protein P6511C.
In burger applications figure 1 and figure 2 shows the difference in texture in firmness (bite) and energy (chewiness) between the samples P6511C vs P6501C and a competitive product.
Vestkorn Textured protein P6511C received the highest score in texture in the burger recipe used.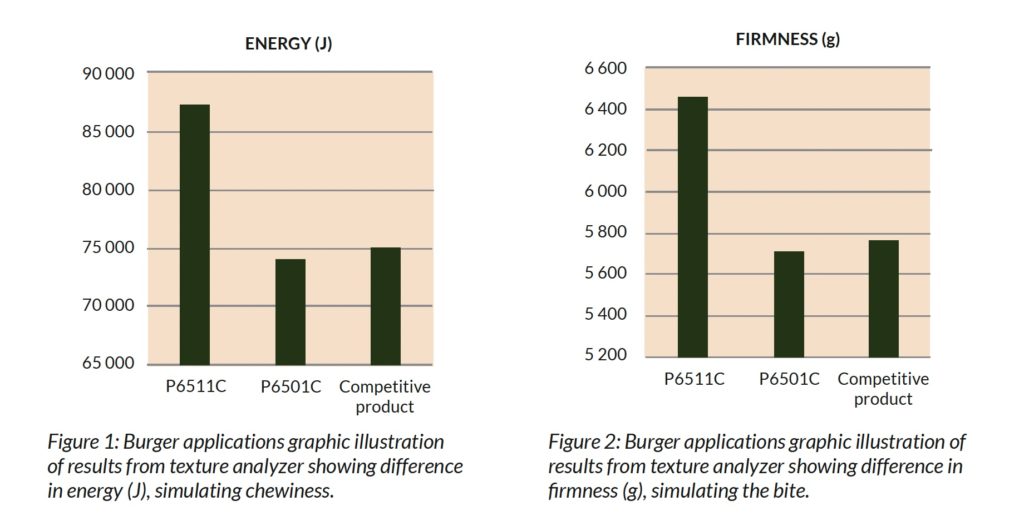 THIS INGREDIENT IS
SOY-FREE
NON-GMO
SUSTAINABLE
GLUTEN-FREE
HYPOALLERGENIC
NATURAL & HEALTHY
SAFE & TRANSPARENT